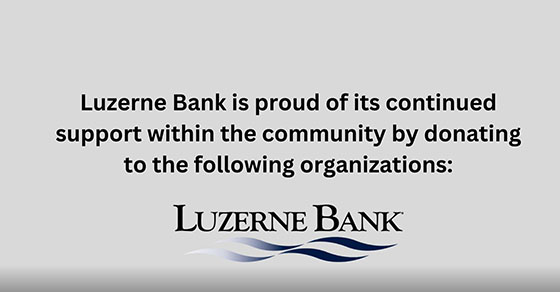 _______________________________________________
| | | |
| --- | --- | --- |
| | | |
| Luzerne Bank donated $5,000 to the Wyoming Valley Montessori Association. Danielle McCormick, Luzerne Branch Manager, presented the donation to Head of the School, Dennis Puhalla. This money will be used to further the education of children in the Kingston area! | Luzerne Bank was happy to donate $1,500 to the Valley Food Pantry! Volunteers of the pantry accepted the donation from Luzerne Bank Conyngham Assistant Branch Manager, Tina Caccese. They expressed that this money will go a long way to helping over 50 families in the Conyngham area. | Luzerne Bank donated $3,000 to the United Way of Greater Hazelton! This money will go a long way in helping families located in the Hazelton area. Pictured are Luzerne Bank employees, Terrence Malloy, Commercial Lender; and Brenda Gugliotti, Hazle Township Branch Manager, presenting the donation to United Way President/CEO Patrick Ward. |
For more information on Luzerne Bank's Community Support, please follow us on 
_______________________________________________
Luzerne Bank Puts Food in the Bank
February 2022 - It started back in December of 2021 when Luzern Bank saw a need to put more than money in the bank, they wanted to put food in the local foodbanks.  "We wanted to help, but also wanted to make sure that our contributions would stay local and help those in our own communities", said Richard Grafmyre, CEO of Penns Woods Bancorp.  
Luzerne Bank pledged that with every loan closed in the months of December, January, and February it would donate $25 to a local foodbank.  This promise led to a total of $9,000 being donated to six different agencies located throughout Luzerne County.
The nine agencies that received donations were CEO Weinberg Food Bank, Back Mountain Food Pantry, St. Vincent de Paul Kitchen, Valley Food Pantry, First United Methodist Church Food Pantry and Plains United Methodist Church Hilltop Food Pantry.
"Luzerne Bank is always looking for ways to give back to the communities that we work and live in.  Donating to the local foodbanks has given us the opportunity to touch many lives", said Robert Neher, President of Luzerne Bank.
_______________________________________________